Crossing
"Clara already had several prospects. She would have a home and children and the comfort of a husband's business, her own match set of everything she had ever known. She looked at the man in front of her. Clara knew that if he could carry her, away from there to someplace else, she could hold on.
'What's your name?' she asked.
They married the next day and went West."
The Exhibit
"A restoration was underway at the Hall of Exhibits. I did not know what this meant when I took the position, only that the Grand Reopening would take place in four weeks and that the restoration was in its final intense stage. New exhibits were being installed, given finishing touches, catalogued. I was to be part of this work. I was part of it, until tonight."
Where You'll Find Me
"But for the first time since that one, the figure left the Munchkins and Escorts standing at the border of town and moved up the road, toward me. We met on either side of the fence. She laid her hands on the beam between us. Her eyebrows twitched and then folded tight together as she tilted her head.
I said, 'Dorothy.'
She said, 'You're her scarecrow, aren't you?'"
Theories
"It was a kind thing for you to do, taking me in, but also selfish, we say. You want me here; we are ferociously in love; you don't even have to leave your place for sex; we would have done this anyway, sooner or later. So what if it's sooner?
So what if this was the reason?
So what?"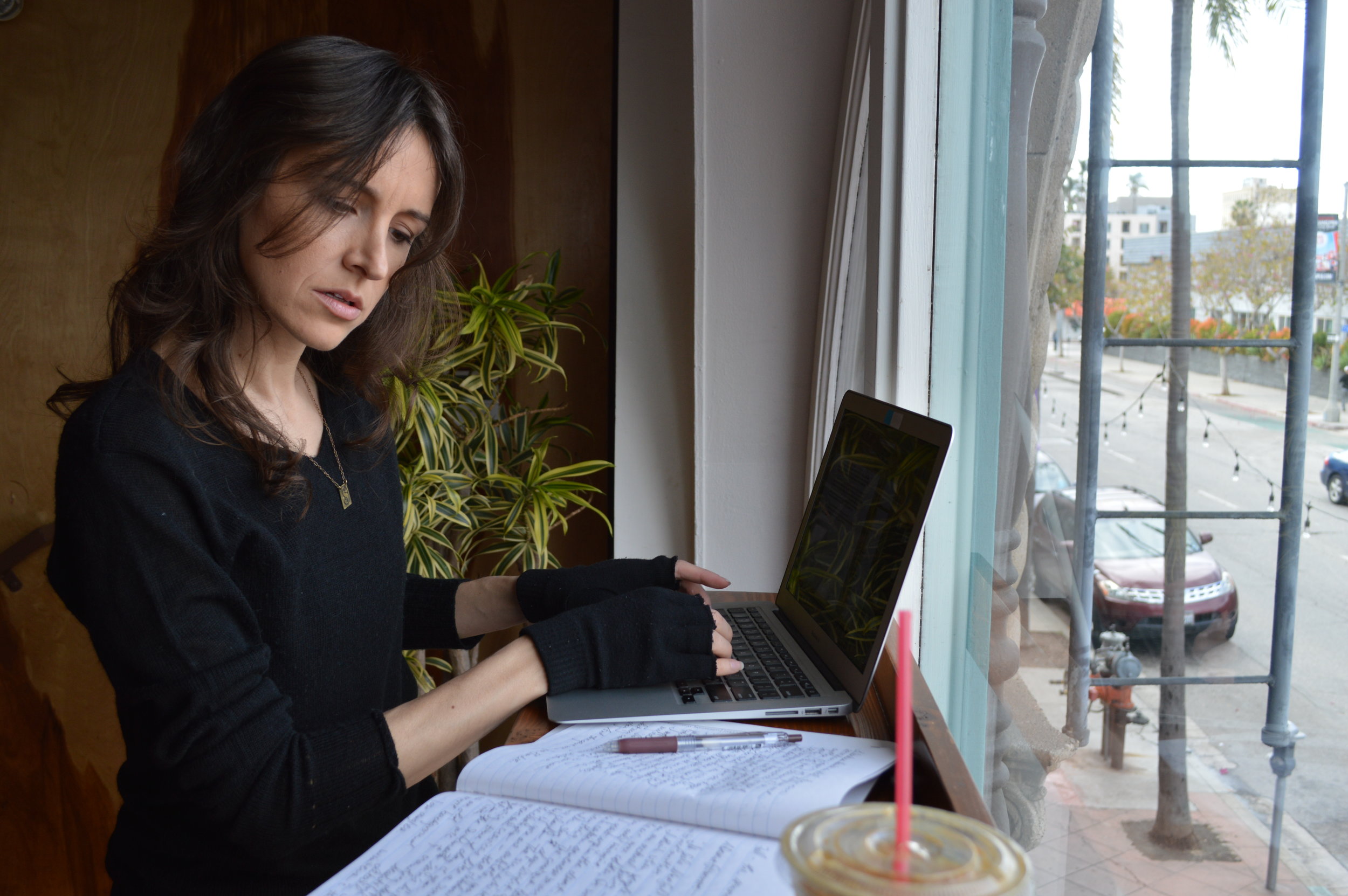 Branden Boyer-White is a fiction and essay writer who has always lived in the desert. Born and raised in Palm Springs and the Joshua Tree area, she also spent three years in Tempe getting her MFA at Arizona State University, where she taught writing.
Her work has appeared in places like Alaska Quarterly Review, Hunger Mountain, Third Coast, and Anthropoid, and been honored with the A Room of Her Own Foundation's Orlando Prize and as a runner-up for the inaugural Miami Book Fair/de Groot Prize, among other nods she's truly grateful for.
Branden loves traveling but hates packing, and collects tarot decks, new favorite folk musicians, and pretty editions of Jeanette Winterson's novels. In past incarnations she danced ballet for a decade, did epic amounts of community theater, had an intense fling with metalworking, and volunteered for four years at a marine wildlife center giving medical care to seals and sea lions. Since 2013, she's worked as a freelance copywriter and has learned more about marketing than she ever dreamed or planned on. For now, she lives in Los Angeles and will fight you that it is the greatest food city in the country.
Short Fiction
"The Exhibit." Anthropoid, Issue 2, "Folk," 2016
"Theories." Hunger Mountain, Special Prizewinner Issue, October 2015
"The Seminarist." The Outrider Review, Vol. 2, Issue 1, "Unrequited," 2015
"Where You'll Find Me." Alaska Quarterly Review, Vol. 31, No. 3 & 4, Fall/Winter 2014
"Ready, Aim." Third Coast, Spring 2012
"Crossing." The Los Angeles Review, Issue 11, Spring 2012
Awards and Recognitions
Grant Winner, Money for Women/Barbara Deming Memorial Fund, 2018
Honorable Mention, Glimmer Train's Short Story Award for New Writers, 2018
Semi-Finalist, Faulkner-Wisdom Competition, 2018
Finalist, The Miami Book Fair/de Groot Prize for a novella, 2017
Nominee, Best of the Net 2017, 2017
Nominee, The Pushcart Prize 2017, 2016
Finalist, The Howard Frank Mosher Short Fiction Prize, 2015
Resident, Jentel Artist Residency, 2015
Finalist, The Sherwood Anderson Fiction Award, 2013
Long-list, The Paris Literary Prize, 2013
Shortlist, William Faulkner-William Wisdom Competition, 2012
Orlando Prize in Fiction, Fall 2011
Third place, The Glendon and Kathryn Swarthout Awards, 2011
Honorable Mention, AWP: 2011 Intro Journals Project
Virginia G. Piper Global Engagement Creative Writing Fellowship, 2010
Check back here for updates on my exciting writer news and upcoming stuff:
Nov. 2018 >> I'll be talking about my prize-winning novella on a special panel at the Miami Book Fair Sat., Nov. 17th ….